Overview of HLTINF001 Comply with Infection Prevention and Control Policies and Procedures
Ruth Hall
07 September,2023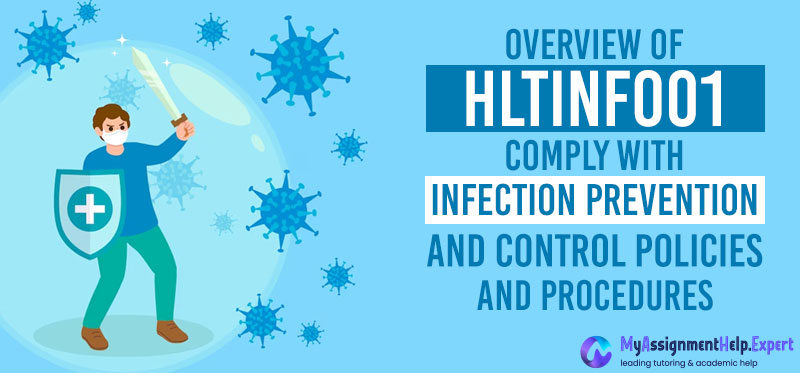 HLTINF001 stands for Comply with Infection Prevention and Control Policies and Procedures. This unit of competency is in the Australian Health Training Package. The unit explains the skills and knowledge needed to follow organisational prevention of infection and control procedures. This included executing standard and transmission-based precautions and responding to various risks of infection. This unit applies to different individuals who are working in direct client care and health contexts.
Major Key Elements Students Must Cover While Pursuing HLTINF001
Before you delve deep to craft your HLTINF001 assessment answers, you must know that you need to cover certain crucial aspects of the unit like –
Following Standard and Additional Precautions for Infection Prevention and Control
Follow hand hygiene practices as per the policies and procedures of different organizations.
Execute procedures of hand care and cover cuts and abrasions
Following the process of maintaining respiratory hygiene and the etiquette of coughing
Following different processes for cleaning of environment
Following different processes for tackling, transporting, and processing linen in a way that regulates the spread of infection
Following different processes for the proper disposal of contaminated waste
Determining and responding to different situations where extra precautions may be essential to avoid the transmission of infections
Determining Hazards of Infection and Analyse Risks
Determining hazards of infection connected with own role and the environment of work.
Determining own areas of responsibility in connection to the prevention and control of infection
Evaluating risks by figuring out the likelihood and severity of injury from identified hazards
Documenting and reporting activities that put clients, self, visitors, and/or other workers at risk.
Determining suitable control measures to reduce risk per the organization's different procedures.
Following Procedures for Managing Risks Connected with Certain Hazards
Abide by different care protocols after being exposed to blood or other body fluids as needed.
Placing suitable signs when and where necessary.
Removing spills as per the policies and procedures of the company.
Reducing pollution caused due to materials, equipment, and instruments by splatter and aerosols.
Determining, separating, and maintaining clean and defiled areas.
Confining records, materials, and medicaments to a remarkably designated clean area
Confining defiled instruments and equipment to a well-designated polluted zone.
According to the HLTINF001 learner guide, knowing all these crucial aspects is essential to deliver unique and flawless HLTINF001 answers. But this is not the end; all these modules include different theories and concepts that are humongous in their way. You need to know all these theories to accurately give HLTINF001 quiz answers.
On successful completion of HLTINF001 Comply with Infection Prevention and Control Policies and Procedures, you must be able to –
Follow established organisation control and prevention of infection procedures on at least 3 different occasions.
Follow established organisation control and prevention of infection process at least once for each of the aspects given below –
Care of hand and hand hygiene
Using personal protective equipment
Waste handling
Enforcing polluted and clean zones
Restriction of pollution
Cleaning of surface
A close look at the HLTINF001 PDF, after completing the course, a candidate should be able to demonstrate the profound knowledge needed to complete tasks outlined in elements and performance contingencies effectively. This incorporates in-depth knowledge of –
Determined guidelines for the prevention and control of infection
Usage and scope of personal protective equipment
Kinds of additional precautions and their application to different areas of work or client groups
Kinds of hazards in the work environment and different risks and control measures
Different modes of transmission of diseases – contact, droplet, and airborne
Aspects that increase the susceptibility to different infection
Before you enrol in this course, it is also essential to be aware of the assessment conditions of the unit. One needs to meet the below-enlisted conditions for this unit –
Use of appropriate facilities, resources, and equipment, incorporating –
Guidelines for organisational prevention of infection and resources
Personal protective equipment
Hand hygiene facilities and equipment
Medical or client care equipment applicable to the workplace
Equipment of clinical and other waste and disposal of waste
Cleaning areas
Modelling of conditions of industry operation, including integrating problem-solving issues to which the candidate is responding.
Improving Academic Performance: How MyAssignmenthelp.expert Aid Students in Writing HLTINF001 assessment answers?
If you are planning to enrol in HLTINF001, you are in luck! You can trust MyAssignmenthelp.expert to offer accurate HLTINF001 online free answers.
Over countless years, we have recruited professional experts, reputed professors, research scholars, academic counsellors, eminent tutors, and academic guides who can provide adequate information to ace all your HLTINF001 answers. We also offer one-on-one tutorial sessions and doubt-clearing sessions. Thanks to their upper-hand knowledge and decades of experience, these mentors are well-equipped to help you craft accurate HLTINF001answers.
Not only that, we also provide you with HLTINF001 PDF samples and solutions that will enable you to develop in-depth knowledge of all the theories and concepts of the unit. Thus, contact us if you need unparalleled assistance with your HLTINF001 quiz answers. Simply drop a mail or a buzz on our Live Chatbox. We assure to help you climb the ladder of academic success with ease!
Frequently Asked Questions
What is HLTINF001?
HLTINF001 denotes Comply with Infection Prevention and Control Policies and Procedures. It is a unit of competency in the Australian Health Training Package. This unit describes the skills and knowledge required to follow organisational prevention of infection and control procedures. It incorporates implementing standard and transmission-based precautions and responding to certain risks of infection.
Who is the unit HLTINF001 for?
This unit, HLTINF001, is for individuals working in contexts of health and direct client care like hospitals, community health services, and aged care facilities.
What are the key elements of the HLTINF001 unit?
The vital elements of the HLTINF001 Comply with Infection Prevention and Control Policies and Procedures unit are –
Follow defined infection prevention and control procedures
Execute standard and transmission-based precautions
Responding to risks associated with infection
Maintenance of personal hygiene
Usage of a personal protective environment
Handling waste securely
Enforcing clean and contaminated zones
Restricting contamination
Cleaning environmental surfaces
How is this unit assessed?
The assessment methods for this unit may incorporate written assessments, practical demonstrations, workplace observations, and case studies. These assessments help in making sure that learners understand and can apply all the concepts taught as a part of this unit.