Be stress-free and ask us for help with BSBSUS201 Assessments
Michelle Nelson
08 September,2023
Overview of BSBSUS201 Participate in Environmentally Sustainable Work Practices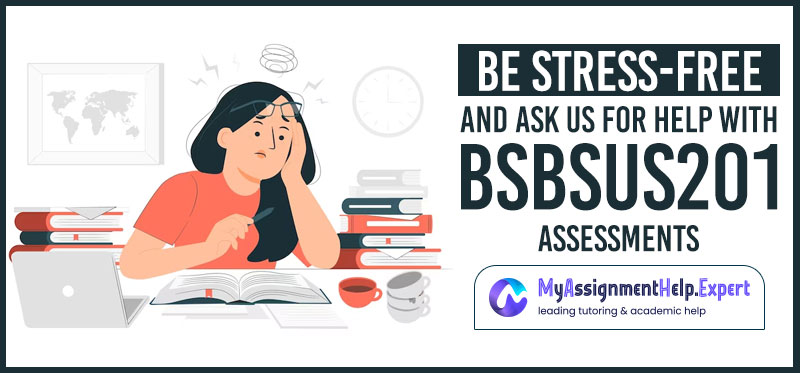 BSBSUS201 denotes Participate in Environmentally Sustainable Work Practices. This unit focuses on the skills and knowledge needed to measure all current resources effectively. It is also used to carry out improvements. This incorporates reducing the negative environmental effects of work practices.
BSBSUS201 is relevant for individuals who work under supervision or guidance. They need to follow different workplace procedures and instructions. They also need to work in an environmentally sustainable way within the scope of authority, competency, and responsibility levels.
Major Key Elements Students Should Cover While Pursuing BSBSUS201
Individuals who aim to pursue BSBSUS201 must understand the significance of the elements covered in this unit.
Simply put, if you wish to score high in your BSBSUS201 participate in environmentally sustainable work practices answers, you need to gain profound knowledge of all the essential aspects listed below –
Determining Current Resource Use
This topic includes –
Determining workplace environment and issues in the efficiency of resources
Determining resources used in own work role
Documenting and evaluating the current utilisation of resources using suitable techniques
Recording and filing documentation evaluating present use of technology (like software systems) where applicable.
Determining and reporting workplace environmental hazards to suitable personnel
Complying with the Regulations of the Environment
This topic incorporates –
Adhering to workplace procedures to make sure of compliance
Reporting violations or potential violations to suitable personnel
Seeking Opportunities to Enhance Efficiency of Resources
This topic comprises –
Following organisational plans to enhance environmental practices and efficiency of resources
Work as a vital part of a team to determine potential areas for improvement. Also, to work practices in your area of work.
Making recommendations for improvements to workplace practices in own work area.
Apart from developing profound knowledge on all the topics, one also needs to demonstrate countless skills to write accurate BSBSUS201 case study answers –
Reading – Recognising and interpreting textual information to define job requirements from relevant information.
Writing– Completing different documents with the aid of necessary formats.
Oral Communication– Presenting ideas. Also, using simple and relevant language to determine and report issues to the designated individual.
Numeracy – Establish basic metric measurements to figure out the usage of resources.
Navigating the World of Work– Comprehending and adhering to legal and regulatory responsibilities associated with own work.
Interacting with Others– Chooses and uses suitable conventions and protocols when interacting with co-workers in various work contexts. Collaborating and cooperating with others to accomplish outcomes of joint.
Get the work Done– Executing actions as per plan, taking certain responsibility for timing and sequencing of various works. Utilising key features and functions of digital tools to finish tasks and access information. Evaluate present practices to determine improvement opportunities.
Other Essentials Students Must Know to Ace BSBSUS201 Assessment Answers
Undeniably, delivering flawless BSBSUS201 assessment 2 answers is daunting. However, you can turn the tables in your favour by demonstrating the ability to –
Locate and interpret a range of sustainability or environment legislation and procedural requirements.
Take part in and support discussions for an enhanced resource efficiency process.
Determine, document, and evaluate resource usage.
Cooperate with team members on recommendations for improving the practices of a workplace.
Again, to complete the unit BSBSUS201 successfully and effectively, one must be able to –
Determine environmental and resource risks as well as sustainability or environmental legislation.
Figure out codes and regulations of practice relevant to own responsibility.
Highlight sustainability requirements in the workplace
Determine reporting channels and processes to report violations and potential issues
Determine the exact place to find environmental and resource efficiency systems and procedures
The assessments of this course unit must be conducted in a safe environment where evidence assimilated demonstrates consistent performance of specific activities. These activities are experienced in the sustainability field of work and incorporate access to –
Documentation, information, and resources associated with workplace environmental and efficiency problems of resource
Office equipment and resources
Case studies, if possible, in real situations
Interaction with others
Improving Academic Performance: How MyAssignmenthelp.expert Aid Students in Writing BSBSUS201 Assessment Answers?
You perhaps have understood by now that mastering the art of writing accurate BSBSUS201 assessment answers comes with a specific set of challenges and difficulties. But there's no need to worry. The diligent professionals and reputed experts of MyAssignmenthelp.expert have got it covered. They can offer you unmatched guidance and provide BSBSUS201 answers PDF that will help you get relevant insight into the essentials of the course unit.
These prolific experts also offer one-on-one interactive tutoring sessions, doubt-clearing sessions, and study sessions that can help you easily comprehend the complexity of BSBSUS201. Furthermore, to make sure that students receive straight A+, we also create custom papers of top-notch quality that are flawless, well-researched, accurately structured, and perfectly cited.
But that's not it! You can also enjoy our plagiarism checking, proofreading, and citation tool FREE! So, do not wait until the last minute. Drop a message on our Live Chatbox to unlock premium offers and discounts today.
Frequently Asked Questions
What is BSBSUS201 is all about?
BSBSUS201, the unit that denotes Participate in Environmentally Sustainable Work Practices, focuses mainly on developing critical skills and knowledge needed to participate in environmentally sustainable work practices in different industries.
Who is the target audience for this course unit?
BSBSUS201 applies to individuals who are working under supervision or guidance. They needed to follow workplace procedures and instructions and work in an environmentally sustainable manner within the scope of competency, authority, and own level of responsibility.
How are assessments specifically conducted for BSBSUS201?
The assessments for BSBSUS201 may include practical tasks, written assignments, case studies, and possibly simulated scenarios. These tasks are to indicate understanding and application of sustainable practices.
Are there any prerequisites for enrolling in BSBSUS201?
The prerequisites might vary based on the institution or training provider. However, generally, there are no formal prerequisites for this introductory unit.
Is there any scope for further learning after completing BSBSUS201?
This unit serves as the starting point. Students intrigued to develop an in-depth understanding of sustainability can unravel more advanced courses and certifications.