CHCPRP001 – Develop And Maintain Networks And Collaborative Partnerships: An Overview
Michelle Nelson
07 September,2023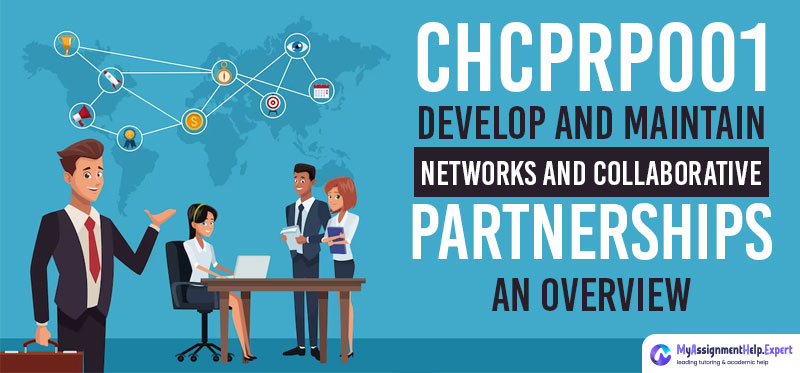 The CHCPRP001 unit imparts the skills and knowledge necessary for individuals to work in unison & collaboration. The course unit identifies the need for engaging in formal and informal partnerships. The CHCPRP001 unit is a part of Training Services, Public Safety, Business Services, and Health training packages, many accredited courses and vocational qualifications.
The content of the CHCPRP001 Develop and Maintain Networks and Collaborative Partnerships applies to every industrial sector and concerns all individuals who wish to take a proactive stance & take responsibility for improving networking & collaborations among workers and organizations.
Participants or candidates must be able to demonstrate the following skills & knowledge when undertaking this course à
The legal and ethical aspects & their considerations necessary for collaborative activities, such as the impact of copyright and intellectual property laws, privacy, confidentiality, and disclosure laws, etc.,
The core principles of interpersonal, inter-organizational, virtual, individual-organizational, formal and informal collaboration
The different types of collaborative endeavours
The myriad advantages of networking and collaboration for workers, organizations, clients, and all other stakeholders
The different dynamics of networking activities and collaborative partnerships
The values as well as the limitations of networking and collaboration actions
Industry structures, socio-political, socio-cultural, & socio-economic factors, and interrelationships among organizations & individuals in both professional and personal contexts that affect collaboration
Key requirements for establishing collaborative models include structure, key stakeholders, visions, & objectives, participation opportunities, etc.
MyAssignmenthelp.expert, one of Australia's leading academic service providers, offers quintessential for all units across all major training programmes, accredited courses, and vocational qualifications; get impeccable CHCPRP 001 RTO resources, CHCPRP001 RTO materials and CHCPRP 001 assessment answers & assignment solutions from professional subject matter experts right here.
Next up, we look at the unit's key elements & constituents.
Major key elements students need to cover in CHCPRP001
Your performance in CHCPRP 001 will be evaluated based on specific performance criteria. Assessments and assignments on all major elements in CHCPRP 001 are the basis for evaluating your performance.
Here are the major key elements of the unit alongside their performance criteria. Bear in mind that the elements define the essential outcomes while the performance criteria define the performance that aspirants need to demonstrate to showcase their achievement of the outcomes.
| | |
| --- | --- |
| ELEMENTS | PERFORMANCE CRITERIA |
| i. Identify any and all networking and collaboration needs, requirements, and opportunities. | Asses and interpret how an individual's and an organization's performance can enhance performance. Determine and prioritize various organizational and individual needs necessary for seamless collaboration. Pinpoint gaps in necessary systems, avenues, and resources in networking and existing collaborative practices; Take steps to address identified gaps. |
| ii. Develop acute collaboration strategies. | Acquire and review all information about the organizations, individuals, clients, and key stakeholders. Be proactive and initiate relationships with inter & intra sectoral professionals and inter-organizational entities. Deem the best ways to share information and resources, wherever possible. Ensure and maintain accessibility and value of information. Define and assess the nature & level of collaboration and negotiation practices with relevant individuals. |
| iii. Learn and master the different ways to work in collaboration | Identify the different kinds of opportunities for workers, employees, organizations, clients, or other stakeholders in the situation Pan and design thoroughly integrated projects that allow for proper networking and collaboration. Work with the members or staff from collaborative organizations. Maintain formal and informal relationships for fast and easy collaborations. |
| iv. Representing the organization | Strive to create a positive image for yourself and your organization. Elaborate upon and communicate relevant issues, policies, and practices of an organization to ensure quick orientations & fast collaboration. Apply privacy, authorization, and confidentiality measures to protect the sensitive information of individuals, organizations, and the networking process. |
| v. Maintain and improve networking & collaborative partnerships. | Maintain networking and collaborative relationships to identify the major benefits of networking & collaboration among clients, organizations, and employees. Boost the quality and performance of networking and collaborative partnerships. Keep a close eye on the elements of the performance criteria. Identify and evaluate the strengths & weaknesses of collaborative properties and provide precise recommendations for taking the right action. |
CHCPRP 001 assignment and assessment answers will require you to study different kinds of collaborative activities and affiliated activities. These include
Meeting and coordinating a person with support needs for the very first time
Crafting an effective support plan for fruitful collaboration
Making a referral for requesting collaborative endeavours
Partaking in supervisory meetings
Coordinating and participating in group projects
Events surrounding job-sharing opportunities
Orientations, induction, and hand-overs
At MyAssignmenthelp.co.uk, we have experts ready to help you with CHCPRP 001 assignments & assessments on all subtopics and elements.
Improving Academic Performance: How MyAssignmenthelp Aids Students in Writing Chcprp001 Top-Notch Assessment Answers
Score like never before in your CHCPRP001 assessments and assignments. Solve all CHCPRP0011 RTO materials and learning resources with dedicated writing assistance from our end. We have skilled and qualified experts ready to offer personalized guidance for all academic tasks associated with the unit.
Get rich, detailed, and flawless CHCPRP001 assessment answers crafted by our experts.
Solve all RTO materials and learning resources with quintessential aid from our end.
Score top grades in every CHCPRP 001 summative assessment, project, case study, etc.
Ace all your assignments with Elan and boost your grades like never before.
You can also get quintessential assistance for workplace projects.
Ease all your worries with expert aid from MyAssignmenthelp.expert Work with skilled subject matter experts qualified from leading colleges and vocational training institutes. We have diploma graduates and certified graduate experts ready to aid you through all challenges.
Assured on-time deliveries, impeccable solutions, direct contact with writers, 24*7 support, low prices & great discounts – experience the finest academic writing services in Australia right here at MAH.expert.
Connect with us and share your requirements to get started!
Frequently Asked Questions:
What is CHCPRP 001?
Ans: CHCPRP 001 is a course unit that dispenses the skills and knowledge necessary to identify, use, and improve networking & collaborative activities among individuals, organizations, and groups. This unit aims to help learners create and enhance formal & informal partnerships to improve the delivery of services and professional practices.
How can MyAssignmenthelp help me with my CHCPRP 001 work?
Ans: MyAssignmenthelp.expert has highly qualified subject matter experts with diplomas and certifications from leading vocational training institutes. We will help you craft pitch-perfect assignments and assessment answers, as well as help you ace all projects in CHCPRP 001 with Elan.