Sitxfsa002 – Participate In Safe Food Handling Practices
Christine Williams
08 September,2023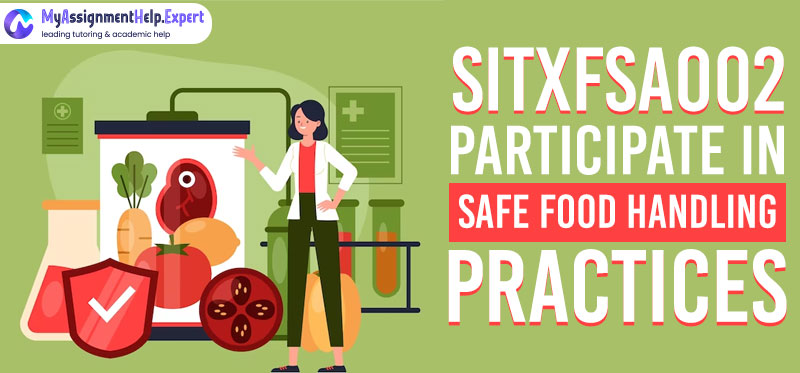 Sitxfsa002 online course defines the results, skills, and knowledge needed to handle food safely. This is being done during storage, preparation, display, serving, and disposal. It requires the ability to adhere to specific procedures as provided in a food safety program.
In sitxfsa002, students participate in safe food handling practices. The unit applies to all organizations that include permanent or temporary kitchen facilities and smaller food preparation spaces.
The individual food safety program of an organization is the foundation for safe food handling practices. Normally, the program is guided by the HACCP, but this unit can also be used for other food safety systems.
It is applicable to food handlers who directly handle food as part of their daily work activities. Cooks, chefs, caterers and food and beverage attendants are all included. Food handlers must follow the rules of the Australia New Zealand Food Standards Code.
Businesses in some states and territories are required to appoint a food safety supervisor who must be certified as an expert in this unit by an authorized training organization.
About Assessment
You will learn about the safety practices by training and assessment during your training. This will ensure that the knowledge received by training can be used in the practical field.
At the end of the training you will be assessed for:
Your knowledge and abilities through written and observational exercises those are relevant to your area of employment.
The ability to utilize what you've learned
Your ability to identify shared values and apply them to your work with initiative
The assessment could be conducted using any one of the following approaches:
Written activity
Case study  
Observation
Questions
Third-party report
Major Key Elements Students Should Cover Sitxfsa002
Follow the food safety program
Access and make use of pertinent data from the company's food safety program. Adhere to the guidelines provided by the food safety program. Stop food dangers at the vital points of control. Finish the procedures for monitoring food safety and submit the necessary paperwork. Recognize non-conforming practices and report them. Take corrective action for occurrences when food hazards are not controlled within the purview of your job responsibilities.
Store food safely
For each type of food, choose the appropriate storage conditions. Food should be kept in environments that minimize contamination and enhance its freshness, quality, and attractiveness. Food should be kept at regulated temperatures, and frozen goods should be kept frozen during storage.
Prepare food safely
Employ heating and cooling techniques that promote food safety from a microbiological standpoint. To ensure microbiological safety, check the temperature of the food as it is being prepared using the appropriate temperature-measuring equipment. Verify the food's safety before it is cooked, served, and given to clients.
Provide safe single-use items
Single-use goods should be stored, displayed, and provided in a way that protects them against contamination and harm. When using things meant for single use, adhere to the directions.
Maintain a clean environment
Equip, surfaces, and utensils should be cleaned and sanitized. Make use of the proper containers and avoid letting trash and recyclables build up. Determine the needs for maintenance, sanitization, and cleaning and report them. Get rid of or report any eating, drinking, or food-handling utensils that are chipped, broken, or cracked. Take action within your purview to guarantee that spaces used for handling food are free of animals and pests, and report any instances where these things have been found.
Safe disposal of food
Mark any food that needs to be disposed of and keep it apart from other foods until the task is finished. Eat meals as soon as possible to prevent cross-contamination.
Proof of Efficiency and Learning
Engage in the aspects of safe food handling practices and demonstrate your ability to carry out the duties outlined in this unit's elements and performance standards within the framework of your work:
Make use of appropriate food handling methods three times or more.
Reduce the risk of food at each important control point:
Receiving, storing, processing, preparing, serving, packaging, moving, and disposing.
Fulfilment of duties delineated in the components and performance specifications:
Use HACCP or other food safety system principles, methodologies, and processes for certain activities and food types.Procedures, specifications, and monitoring records for the programKeeping an eye on food safetyTechniques for food safetyManaging safe food varietiesThis course covers the accurate calibration, operation, and diagnosis of the temperature probe.Selecting and utilizing goods and tools for cleaning, sanitizing, and pest control
Maintaining, cleaning, and sanitizing areas used for processing and storing food.
Improving Academic Performance: How Websites Aid Students in Writing Sitxfsa002 Assessment Answers
Many students struggle with their assignments, and for various reasons, they are unable to finish them by the deadline. Owing to time constraints and inadequate understanding of following university regulations when creating assignments, students utilize SITXFSA002 assessment answers.
We have over a thousand subject matter experts in our SITXFSA002 assignments help services who are knowledgeable about safe food handling procedures. We assist our students with downloading the complete procedure and finishing their assignments on time, which includes organizing their logbooks and online tests. While the cooking assignments appear simple, they require a lot of effort and active involvement in class as you learn the numerous menus and dishes you must complete.
There are advantages to asking writers for their responses, including:
Get Professional advice
High quality and proofread content
On-time delivery every time
Quick round-the-clock assistance
So, take advantage of our team of professionals' top-notch cooking assignment help!
Frequently Asked Questions
What is the objective of food safety program?
The goal of the food safety program is to identify the risks to food safety that arises during the food production process. Programs for food safety are created to assist businesses in identifying and managing food safety situations.
What is meant by contamination?
Contamination is the term used to describe unwanted materials such as dust and particles during the manufacturing and transportation processes. Contaminants comprise any unwanted material discovered within the product. This influences the process's or the product's quality.
Which foods could be hazardous?
Food that has the potential to be harmful may include bacteria and be able to foster the growth of those bacteria. Whether food is kept at the proper temperature in storage some bacteria create toxins, which are harmful when consumed.
Does your state or territory require all food enterprises to have a food safety program?
A food safety program is necessary only for a select group of high-risk food enterprises. When a business serves potentially harmful food to individuals who are susceptible, it must adhere to Standard 3.2.1.