Improve Your Knowledge in SITXFSA001 with Guidance from Professional Mentors
Michelle Nelson
07 September,2023
Overview of SITXFSA001 Use Hygienic Practices for Food Safety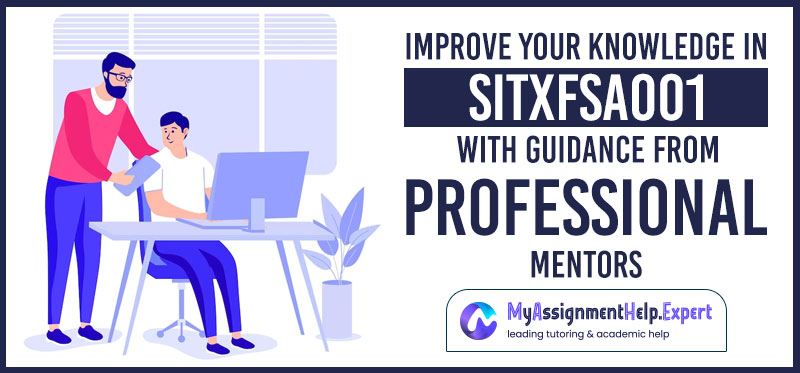 SITXFSA001 denotes Use Hygienic Practices for Food Safety. This unit highlights the performance, skills, and knowledge needed to use personal hygiene practices to avoid food contamination that might lead to food-borne illnesses. It demands the capacity to follow predetermined organisational processes and to determine and control food hazards.
The SITXFSA001 online course applies to all individuals working in organisations that have permanent or temporary kitchen premises. This also includes areas for smaller food preparation or even bar areas.
Hence, the knowledge of this unit is important for maintaining personal hygienic practices for restaurants, clubs, cafes, hotels, and bars. It also includes tour operators, functions, events, exhibitions, and conference catering. Educational institutions, aged care facilities, correctional centres, hospitals, defence forces, cafeterias, kiosks, canteens, fast food outlets, residential catering, in-flight and other transport catering also come in these areas.
This unit of SITXFSA001 food handling is also applicable for food handlers who directly handle food or food contact surfers like plates, bowls, and cutlery during their daily work activities. These people include –
Cooks
Chefs
Caterers
Kitchen stewards
Kitchen hands
Bar and food and beverage attendants
Room attendants
Front office staff
A close look at SITXFSA001 PDF will help you understand that food handlers must adhere to the Australia New Zealand Food Standards Code requirements.
In certain states and territories, companies must designate a food safety supervisor who will be certified as competent in this unit through a registered training organisation. Food safety legislation and knowledge requirements may also vary across borders.
Those developing training to aid this unit must get in touch with the relevant state or territory food safety authority. This must be done to identify any accreditation arrangements for courses, assessors, and trainers.
Major Key Elements Students Should Cover While Studying SITXFSA001
Before you delve deep into the SITXFSA001 course, it is essential to know certain key elements that this course covers. It is only by gaining profound knowledge of these essential topics that you can ace your SITXFSA001 assessment answers.
These topics are –
Following Hygiene Procedures and Identifying Food Hazards
To achieve competency in this unit, an individual must be able to follow different organisational hygiene procedures. They should be able to report unsafe practices that violate hygiene procedures quickly.
They should also be able to determine food hazards that may influence the health and safety of customers, colleagues, and themselves. Further, they must also be able to remove or reduce the hygiene hazards and report them as suitable for follow-up.
Reporting Any Personal Health Issues
By studying this unit, an individual must be able to report personal health issues that are most likely to cause a hygiene risk. They should also be able to report food contamination incidents, which are the outcomes of personal health issues.
They should also be able to stop participating in food handling activities where their health concerns may lead to food contamination.
Avoid Food Contamination
By getting a food safety certificate SITXFSA001, an individual must be able to maintain clean clothes, wear necessary personal protective clothing, and only utilise organisation-approved bandages and dressings. They should be able to avoid food pollution from clothing and other worn items.
They should be able to avoid unnecessary direct contact with ready-to-eat food. They must be able to make sure of hygienic personal contact with food contact surfaces and food. Further, they should be able to use hygienic cleaning practices that prevent food-borne illnesses.
Avoid Cross-Contamination by Washing Hands
An individual enrolled in this unit must be able to wash hands at suitable times and adhere to washing procedures continuously. He/she should be able to wash hands by using suitable facilities.
On successful completion of the unit and delivery of SITXFSA001use hygienic practices for food safety answers, you will be able to –
Demonstrate the use of safe food handling practices in food handling work functions in line with organisational hygiene processes on at least three occasions.
Demonstrate processes to – determine food hazards, report unsafe practices, and report incidents of food contamination.
Entry Requirements for SITXFSA001
There are no as such specific academic entry requirements for SITXFSA001.
Applicants who are enrolled in this unit are expected to –
Be able to use a personal computer, with the inclusion of basic word processing, spreadsheet, email programs and internet search engines
Have exhibited capacity in reading, writing, learning, oracy, and numeracy competencies to Level 1 of the Australian Core Skills Framework (ACSF).
Improve Academic Performance: How MyAssignmenthelp.expert Aid Students in Writing SITXFSA001 Assessment Answers?
If you are pursuing SITXFSA001 and striving to write informative SITXFSA001 use hygienic practices for food safety answers, we can be the panacea to all your academic concerns.
At MyAssignmenthelp.expert, we have roped in renowned professors and eminent industry consultants who can offer unmatched guidance for the course. Whether you desire to develop a comprehensive understanding of all the topics covered in the unit or simply want to set a mark in the class, you will have access to tailor-made SITXFSA001 PDF and course materials at your fingertips. We also offer comprehensive one-on-one tutorials and Q&A sessions that will instantly clarify your doubts.
So, don't worry if your SITXFSA001 assessment answers aren't up to the mark. Simply get in touch with us to put an end to all your concerns for once and all. We ensure to provide you with unique solutions that will help you score high.
Frequently Asked Questions
What is SITXFSA001?
Ans: SITXFFSA001 denotes a unit of competency in the Australian Qualification Framework (AQF). This unit explains the performance outcomes, knowledge and skills needed to use personal hygiene practices and avoid contamination of food that might lead to food-borne illnesses. It also demands the ability to adhere to predetermined organisational processes and to determine and control hazards of food.
What are the key requirements of SITXFSA001?
Ans: The essential requirements of SITXFSA001 are –
Maintaining clean clothes, wearing personal protective clothes
Avoiding food contamination from clothes and other worn items
Avoiding unnecessary direct contact with ready-to-eat food
Making sure of hygienic personal contact with food and food contact surfaces
Implementing hygienic cleaning practices that avoid food-borne illnesses
Avoiding cross-contamination by washing hands
What does the training of the unit SITXFSA001 cover?
Ans: The training covered in SITXFSA001 incorporates comprehending personal hygiene practices, safe food handling techniques, proper cleaning, and sanitizing methods. It also incorporates ways to avoid cross-contamination, determining potential hazards, and adhering to relevant food safety regulations.
What are the common causes of cross-contamination?
Ans: The key causes of cross-contamination are –
Utilising the same cutting board for raw and cooked foods without cleaning them
Touching ready-to-eat foods with bare hands that have been in contact with raw food
Utilizing the same utensils for raw and cooked foods without cleaning them
Storing raw and cooked foods together
Is the knowledge gained from SITXFSA001 applicable to only commercial kitchens?
Ans: No, the principles and practices taught as a part of the course unit SITXFSA001 apply to all environments where food is made, including domestic kitchens. Implementing proper food safety practices at home is equally vital to make sure of the health of your family and guests