All About PEEL Paragraphs One Must Know
Ruth Hall
08 September,2023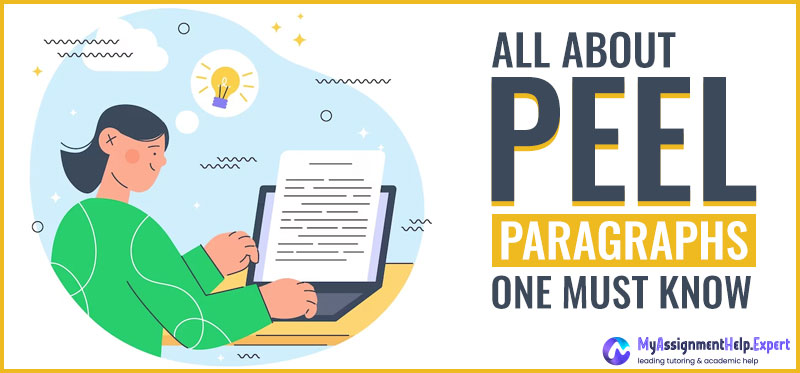 The abbreviation PEEL for essays may be familiar to you, but what does it really mean? How can it benefit you, too? We can clarify everything for you and offer advice on how to write a flawless essay in the future.
There's undoubtedly a craft to composition. If you haven't written one in a while or you want to improve your academic writing abilities, the PEEL paragraph approach is a simple technique to make your point in a way that the reader can readily understand.
So, what is a PEEL?
A writing strategy called the PEEL paragraph method helps arrange paragraphs so that each one conveys a single, distinct point of view that connects to the essay's main idea or thesis statement.
Using the PEEL structure makes it easier for you to stick to the best practice of focusing each paragraph on a single point of your argument.
It helps you to write a paragraph that will be easily understood by other people. So, write in a simplest way possible.
What exactly is a PEEL Paragraph?
Composing a paragraph could appear easy. But it's crucial to comprehend every aspect if you want to produce something deserving. Planning ahead and conducting research is crucial, but using the appropriate techniques really adds value to your text.
The acronym for "Point, Evidence, Explain, and Link" is PEEL. Communicating with the audience will be simpler for you if you know how to include this technique in your writing.
Now, what does PEEL stand for?
You have to make your point in the first sentence. It gives the reader an overview of the subject you will be covering and indicates about the paragraph. This is referred to as a topic sentence at times.
Provide instances and facts to back up your claims. Provide evidence to support and elaborate on your position in the next phrase or two. Factual information, numerical data, research results, quotations from reliable sources, and original texts can all be used as evidence.
Here's where you demonstrate your comprehension by going into further into how and why the facts support your argument. The reader should be able to understand the evidence from your explanation.
The final sentence should restate your thesis. This will establish a connection between your work and the following paragraph. The next topic or paragraph might be introduced with the help of the link sentence.
How to Write a PEEL Paragraph in an Essay?
Use the PEEL writing style if you want to write a well-structured essay. The PEEL method is one of the most effective for structuring and organizing thoughts or ideas in an essay. If you're not sure how to organize the PEEL paragraph structure, make sure you follow the instructions below.
Plan Your Paragraph
Planning is commonly overlooked by authors. Remember that this is the first step, and it is critical before writing because it will save you time. So, precisely outline your essay so that your viewers may grasp it. Write down any thoughts that come to mind while planning. Consider the examples you used to demonstrate your points.
Write the First Paragraph
Write the opening paragraph so that the reader gets a brief overview of the subject of your essay. Avert using "me" and "I" as personal pronouns.
Select the Most Relevant Examples
If you don't provide examples, the reader might not understand your viewpoints. So, always pick the one that is the most convincing and compelling. If there is an example where there is both alliteration and metaphor. Pick the one where there is metaphor because metaphor conveys a deep meaning and requires skill.
Include the Linking Statement
This is a crucial phase in the argument summary process. It will set up the larger discussion.
Proofreading the essay is the next step after finishing it. Editing and proofreading your paragraph is crucial. Examine your errors. Check for readability, sentence structure, grammar, and spelling mistakes. You may use any online tool, read it aloud, or read it backward to fix any faults you make. Once the errors have been fixed, your work is prepared for submission.
Use of Writing PEEL Paragraph
The PEEL method is used to compose creative or academic essays. Its major purpose is to assist the writer in engaging the readers and making them appreciate your article. If the first paragraph and introductory lines are worth reading, it will keep the readers engaged in your work.
The number of arguments determines the number of paragraphs in PEEL writing. Essays are an important aspect of schooling. PEEL writing is one of several matters to consider when developing an essay.
When writing in PEEL format, the writer's views and opinions should be his or her own. The writer must support it with well-supported instances and examples. Another phase should be to provide an explanation and use supporting evidence to support the arguments. It is important for the writer to focus on making clear and evident arguments.
It can be applied to argumentative essays, research papers, explanatory essays, and personal writings. You should structure your paragraph using the PEEL writing style if you choose to utilize it. There should be a minimum of four sentences in each paragraph.
Examples of PEEL Paragraph
Here are some PEEL paragraph examples for your convenience:
Example #1: Is it appropriate for kids to have their own cell phones?
Point: Since cell phone use shortens children's attention spans and fosters unhealthy environments, it should not be permitted for them to use them. The continual notifications on the devices also make them more susceptible to developing a gadget addiction.
Evidence: According to a recent study, a sizable portion of kids who spend a lot of time on screens have trouble focusing on their academic work. Many teenage smartphone users also experience sleeplessness.
Explanation: Unhealthy limits, poor planning, and a lack of knowledge are the main causes of children's problems, which their parents frequently ignore.
Link: According to the data, children who use their phones for extended periods of time suffer from academic apathy, anxiety, and insomnia. As a result, it is bad for them to be exposed to prolonged screen sessions without parental supervision.
Example #2: Should college students be required to wear uniforms?
Point: While many say that uniforms should be required for college because they promote discipline and aid in the formation of an identity, others counter that poor students cannot afford them and that wearing them limits their ability to express themselves freely.
Evidence: College uniforms are mostly about commercialization rather than discipline, and the papers advice against the plan. In fact, uniforms make pupils uncomfortable and don't enhance the educational process.
Explanation: The goal of today's colleges is to generate revenue from their student body, and part of that revenue is the dress code. Alternatively, the pupils might learn who they are via comfort and comprehension and use this money in other areas.
Link: Those who oppose the college dress code argue that it is an unnecessary expenditure addition that detracts from the overall college experience and does not raise academic achievement. Consequently, wearing a college uniform shouldn't be required.
Example #3: Is it appropriate to keep animals in zoos?
Point: First of all, it is cruel and destructive to remove animals from their native habitats and ecosystems.
Evidence: The WWF claims that animals held in captivity experience zoochosis, a disorder that results from their loneliness and boredom. Zoochosis causes animals to act uncomfortably and may cause them to vomit, make loud noises, act aggressively toward zoo visitors, wobble, and exhibit other unpleasant behaviors.
Explanation: Events like these make it very evident that wild animals should live in the outdoors, not in happy-ending enclosures like zoos.
Link: Animals will probably lead happy, free lives if they are released into the wild and wilderness. Therefore, unless they are held in zoos for therapy or rehabilitation, animals should be fed immediately rather than subjected to mental or physical torment.
Example #4: What is the importance of the Internet?
Point: The internet has completely changed how we obtain information and communicate.
Evidence: According to a Pew Research Center study, eighty-one percent of Americans use the internet every day. This demonstrates how essential the internet has become to our day-to-day existence.
Explanation: The sheer number of Americans who use the internet every day attests to its increasing significance for information access and communication. Thanks to the internet, we can communicate in real time with people anywhere in the world and have a plethora of knowledge at our disposal. Moreover, the internet has enabled businesses to reach beyond geographical borders and individuals to work remotely.
Link: In general, the widespread usage of the internet has radically altered how we communicate and obtain information. This demonstrates the importance of the internet in our day-to-day activities and emphasizes how crucial it is to know how to use and navigate it properly.
Example #5: Should iPads be given to newborns?
Point: Research suggests that giving iPads to young children can cause developmental delays if they spend too much time on screens before the age of two.
Evidence: A recent pediatric study revealed that premature screen-time exposure can cause infant speech development delays.
Explanation: Screen time is taking the place of other important developmental activities, which is why infants are experiencing these delays.
Link: Research indicates that excessive screen time during infancy may harm infants' speech development, so it is best to avoid exposing young children to iPads.
Elements of a PEEL Paragraph Essay
Whether you choose TEEL or PEEL paragraph structure, you must comprehend what constitutes a flawless essay. The format itself aids in the organization of facts for the greatest essay.
Here are some additional features. Here are some pointers for creating a great essay:
Make sure that each essay paragraph focuses on a single idea. Combining more than one concept in a sentence makes it difficult for readers to identify key points.
Before beginning to write, create an outline for the essay to ensure a decent flow.
In your introduction paragraph, make sure you have a clear thesis statement.
If at all possible, use the five-paragraph essay format.
Use scholarly pieces that are recent and reliable.
Well-constructed phrases, flowing paragraphs, and no grammar or syntax problems distinguish great academic articles.
Avoid plagiarism in your writing. As always, if you require assistance with your essay, please get in touch with us!
Do you know where to apply the PEEL paragraph strategy? You can use it to write any type of essay. It is appropriate for persuasive/argumentative, analytical, descriptive, expository, and personal essays.
You will very certainly unconsciously follow the PEEL design. However, it will make more sense if you outline your essay using the PEEL technique. However, not all paragraphs are suitable for using the PEEL writing method.
Finishing Up
We hope you now understand PEEL writing and how to create a peel paragraph effectively. If you are unsure how to compose a PEEL paragraph, please get in touch with us right away. We have a large number of peel paragraph writers who are well-versed in writing. All of our specialists understand how to communicate themselves without disrupting the flow, so they can easily help you master the fundamentals of effective writing. Furthermore, with the assistance of our academic writers, you can write various types of assignments in addition to PEEL writing.
When you are stuck with your assignments, simply use our peel paragraph sentence starters'
services at a low cost. Specifically, by utilizing our online peel paragraph generator, you may complete all subject homework ahead of the due date and obtain top results in your class.
That's all! We hope this clarifies the PEEL method and how it might assist you with your next essay.
Frequently Asked Questions
How is a PEEL paragraph structured?
A PEEL paragraph is divided into four sections: the Point (assert your primary point), the Evidence (give supporting facts or quotes), the Explanation (analyze and comment on your evidence), and the Link (link to the following paragraph or thesis statement).
Are PEEL paragraphs only used in essays?
PEEL paragraphs aren't just for essays. They are adaptable and improve communication in a variety of texts, promoting logical flow and clarity in both official and casual writing.
Why are PEEL paragraphs effective?
Due to their systematic approach, PEEL paragraphs are effective. They assist writers in clearly articulating concepts, providing evidence-based insights, and maintaining a clear relationship to the main issue, so boosting readability and understanding.
Can a PEEL paragraph have multiple points?
Yes, many ideas can be included in a PEEL paragraph if they are related to the same fundamental topic. This strategy facilitates in the breakdown of difficult concepts or arguments into consumable components, hence boosting overall comprehension.
Can PEEL paragraphs be used for creative writing?
Absolutely, PEEL paragraphs can be employed in creative writing. They help introduce ideas, elucidate creative choices, provide evidence from the text, and tie everything back to the underlying theme, enriching the depth of the narrative.
Are PEEL paragraphs useful for improving writing clarity?
Yes, PEEL paragraphs can improve writing clarity greatly. Readers can easily follow the writer's thoughts by enforcing a methodical pattern of presenting points, explaining them, offering proof, and linking them back, resulting in clearer, more coherent writing.