Nursing Research Topics For Students
admin
08 August,2023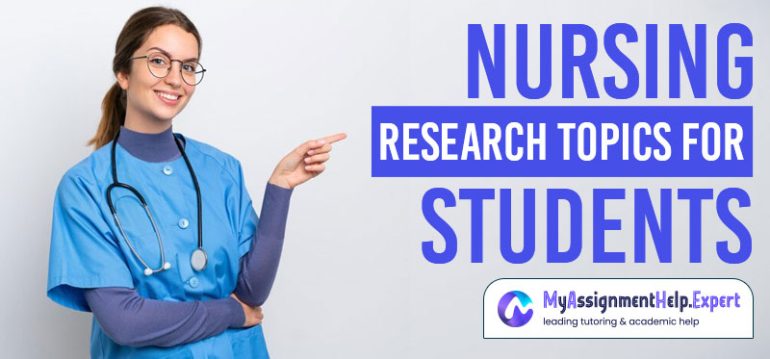 Nursing is a dynamic and ever-evolving field that plays a crucial role in the healthcare system. As nursing students embark on their educational journey, one of the essential aspects they encounter is research. Nursing research not only expands the students' knowledge but also contributes to the advancement of patient care and nursing practices. In this blog, we will delve into a comprehensive list of nursing research topics tailored for students, enabling them to explore and contribute to this impactful field.
Patient-Centered Care and Communication
The cornerstone of nursing practice is effective communication and patient-centered care. Research topics in this realm can encompass investigating strategies to enhance communication between healthcare providers and patients, understanding the importance of empathy in patient care, and examining the impact of culturally sensitive approaches in improving patient outcomes.
Nursing Ethics and Legal Issues
Ethical dilemmas are prevalent in healthcare settings, and nursing students can delve into researching topics such as informed consent, patient confidentiality, end-of-life care, and the role of nurses in upholding ethical standards. Exploring the legal aspects of nursing practice, including malpractice and negligence, can also provide valuable insights.
Evidence-Based Practice (EBP)
EBP is a crucial component of modern nursing practice. Students can investigate the process of integrating research findings into clinical decisions, barriers to EBP implementation, and the impact of evidence-based interventions on patient outcomes. Research in this area helps bridge the gap between theory and practice.
Mental Health Nursing
Mental health awareness has gained significant momentum in recent years. Nursing students can delve into topics like stigma reduction, innovative interventions for mental health promotion, and the role of nurses in addressing the mental health needs of diverse populations.
Pediatric Nursing
Research in pediatric nursing can explore subjects such as family-centered care, pain management in children, developmental assessment tools, and interventions for managing chronic pediatric conditions. This area offers insights into providing specialized care to the youngest patients.
Geriatric Nursing
As the population ages, geriatric nursing gains prominence. Students can research topics like geriatric assessment tools, strategies for preventing falls in older adults, and approaches to promoting quality of life in elderly patients with chronic illnesses.
Health Promotion and Disease Prevention
Nursing students can delve into the promotion of healthy lifestyles, disease prevention strategies, and the impact of nursing interventions in reducing the risk of chronic diseases. This research area contributes to improving community health and reducing healthcare costs.
Global Health and Cross-Cultural Nursing
Global health research topics can encompass the study of infectious diseases, healthcare disparities, and the role of nurses in international humanitarian efforts. Cross-cultural nursing research explores the challenges and strategies for providing culturally competent care in diverse healthcare settings.
Nursing Leadership and Management
Nursing leadership is crucial for maintaining effective healthcare systems. Students can explore topics like transformational leadership, nursing management styles, and strategies for fostering a positive work environment that enhances patient care.
Nursing Education and Training
Given the evolving nature of healthcare, nursing education is essential for producing competent professionals. Research topics can include innovative teaching methods, the integration of technology in nursing education, and strategies for bridging the theory-practice gap.
Chronic Disease Management
Chronic diseases pose a significant burden on healthcare systems. Nursing students can investigate topics such as self-management strategies for patients with chronic conditions, the role of nurses in care coordination, and the impact of lifestyle interventions on disease progression.
Nursing Informatics and Technology
Technology is rapidly transforming healthcare delivery. Research in nursing informatics can explore the benefits and challenges of electronic health records, telehealth services, and the ethical implications of using technology in patient care.
Conclusion
Nursing research offers an exciting avenue for students to contribute to the field's growth while deepening their understanding of healthcare practices. These diverse research topics provide a starting point for nursing students to explore areas of interest that align with their passions and career goals. Whether delving into patient-centered care, mental health, geriatrics, or any other area, the research undertaken by nursing students has the potential to impact patient outcomes, healthcare policies, and the overall advancement of nursing as a profession. By immersing themselves in research, nursing students are poised to become catalysts for positive change in the healthcare landscape.