How to Write an Impressive Cover Letter that Lands the Interview
Min Seow
08 September,2023
Yes, you have entered the familiar cycle once again. You have opened a blank document, sat down to write a cover letter, checked your email, scoured through millions of cover letter examples, watched that cursor blinking on the screen, and finally typed in on search engines – 'how to write a cover letter?'
And, hopefully, you landed on this page. But you still might be pondering, "Does anyone these days read cover letters?" Believe us – cover letters do get read. To certain hiring managers, they are the most vital part of your job application.
In fact, according to a survey, 77% of recruiters prefer candidates who send in a cover letter, even if submitting one is optional. 45% of hiring managers tend to read an applicant's cover letter much before their resume.
A cover letter is a tool that will help you introduce yourself in a memorable and personal way during a job application. The purpose of a well-crafted cover letter is to elaborate on some of your greatest career and life accomplishments contained in the resume while infusing your personality.
Unlike a resume, it enables you to provide context for your qualifications and describe your motivation for joining the company. But how to pique the interest of your future recruiter and hiring manager while highlighting your truest self?
We have got you covered. Today's comprehensive guide will enable you to write a cover letter that effectively sells your experience and skills, boosts your chances of securing interviews, and gets your foot in the door.
Fasten your seatbelts. Let's take off!
What Is a Cover Letter? a Brief Overview
According to a survey of ResumeGo, 87% of hiring managers worldwide read cover letters. Among companies that don't require applicants to submit a cover letter, 73% Claimed they frequently or always go through the cover letters they receive.
A cover letter is a one-page document attached to the resume to introduce yourself to a hiring company. In online job postings, it is also known as a cover letter, motivational letter, or letter of motivation. This is usually the first contact point you make with a potential employer, hiring manager, or recruiter for a job application.
A cover letter, around four to five paragraphs long, goes in-depth about your career. It can be incredibly useful when your application makes it past an ATS or applicant tracking system and into the hands of a recruiter or when you have been asked to email your application directly.
It is the perfect way to provide the employer with a sense of who you are, highlighting your experience and skills before they go through the information in your resume. It also provides you with the golden chance to give a clue to the reviewer that you are likable, original, and will be an outstanding addition to the team.
Now that you are well-versed in what a cover letter truly is, let's proceed to find out the significance of writing the perfect cover letter format.
Cover Letter: What's the Purpose of Writing One?
As per the claim of 49% of HR Managers, your cover letter is the second-best way to call attention to your resume and differentiate yourself from other applicants. Again, according to new research, applications that provide tailored cover letters yield more than 50% of interviews in comparison to those that do not.
Hence, the key objective of your cover letter is to compel the hiring managers to know more about your personality on qualifications than listed on the resume and move you to the next stage of the hiring process. It is a crucial tool to present yourself as an asset to the company.
With your cover letter, you will aim to –
Introduce you to hiring managers.
Offer details about your qualifications.
Show how your skills and experience relate to an employer's needs for a certain position.
Exhibit your enthusiasm for a certain position and the company
Reflect on your voice and show a glimpse of your written communication skills
Showcases crucial personality traits like 'self-motivated', 'a good leader', 'organised', etc.
Demonstrate a sense of your personality and writing style
State to employers why you desire to work for them
Showcase how you are the best match for the position
Describe circumstances like job hopping or gaps in employment
All in all, a well-crafted cover letter template emphasises your understanding of the vision of the company and the ways you fit into it. If it is written well, it can propel you to the top of the pool of applications.
Cover Letter Structure Checklist: What Does it Include?
A close look at a cover letter sample will reveal that a well-written cover letter is flexible and brilliantly formatted. Making use of a cover letter template can enable you to ensure that you get the correct information across to the hiring manager. However, adjusting and customising every letter to a specific job application is still significant.
Take a look at the quick rundown of the crucial aspects you need to incorporate while drafting your own cover letter –
A. Contact Details
Name
Address (City, State with zip code)
Phone Number
Email Address
B. Greeting
Whenever you can, address the hiring manager by name.
C. Body (1-2 Paragraphs)
Write about what you know about the company
Describe why you are applying for the position
Explore the value you can bring to the company
Incorporate measurable results when and if possible
D. Closing Paragraph
Reiterate your interest
Include a Call to Action
Specify any attachments
Include a professional sign-off like 'Best' or 'Sincerely' before the full name.
Here's a perfect cover letter example for visual learners out there –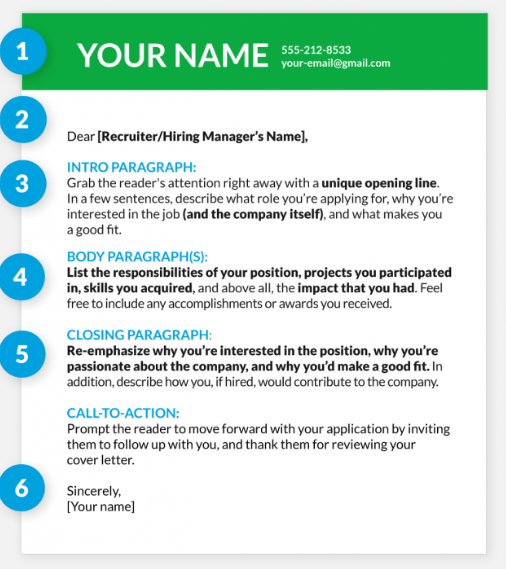 When Should You Include a Cover Letter?
Remember, not all jobs demand cover letters. So, how to determine whether you need to submit one?
A. Write a Cover Letter When…
The job posting explicitly asks you to do so
You are applying for an opportunity at a mission-driven company
You believe that doing so will offer vital information to the employer that they wouldn't be able to get from your resume.
B. Consider Including a Cover Letter When…
It is marked as 'optional' in the application, and you possess the bandwidth to do so
You have content that you can easily repurpose or recycle into a customized cover letter.
C. Avoid Submitting a Cover Letter When…
A job posting particularly asks you not to submit one
There exists no way to submit one in the application portal. When you do so, it will demand a serious workaround.
How Long Should a Cover Letter Be?
While the objective of a cover letter has never changed, the way it is presented and turned in has evolved with time. This implies it can be challenging to confidently answer the question of how long should a cover letter be.
Generally, try to keep the cover letter around 5 paragraphs long. While recruiters go through them, they will also scour through numerous other cover letters. So, make sure to keep it tight.
Always ensure to communicate that you are genuinely interested in the position and why you are especially well-suited to it. But, never overwhelm the reader with the history of your experience and unnecessary details that should appear on your resume.
How to Write a Cover Letter Your Recruiters Will Love?
Now that we have got the hang of the fundamentals, we will walk you through the detailed process of crafting the perfect cover letter format step by step.
Have a look at certain essential steps to writing a brilliant cover letter that screams out loud, 'I am an excellent hire!' –
A. Craft a Fresh Cover Letter for Every Application
Undeniably, it is incredibly easier and quicker to take the cover letter you crafted for your last job, change the company name, and send it off. However, most recruiters aim to see you are excited about a certain position and company. What does this mean? You need to draft a custom letter for every position.
While it is natural to reuse a couple of strong sentences and phrases from one cover letter to another, do not even consider submitting a 100% generic letter.
When you send off a letter saying – "Dear Hiring Manager, I am thrilled to apply to the open position at your company,"- it sends off an instant signal to hiring managers that you are mass-applying for every job listing that pops up on job portals.
However, this doesn't mean you cannot get a little bit of assistance. You can take a close look at the cover letter template sample.
B. Begin Your Cover Letter with a Header
Similar to a resume, beginning your cover letter with a 'Contact Information' segment is vital. Here, you will want to incorporate all significant information, like –
Full Name
Contact Number
Email id
Date
Name of the recruiter/ their professional title
Name of the organisation you are applying to

In certain scenarios, you can also consider including –
Social Media Profiles – Any kind of profile relevant to your field. Social profiles on websites like GitHub, LinkedIn, Medium, etc.
Personal Website – If you have a personal website that contributes value to your application, you can specify it. Like, if you are a professional writer, you would want to link to your blog.
A. Pay Greetings to the Hiring Manager
Once you are done writing your contact information, it is essential to start including the cover letter's contents.
While writing a cover letter for a resume, you first must address the cover letter to the hiring manager.
The most traditional way to address a cover letter is to use the first and last name of the hiring manager, like Mr. or Ms. (like, "Dear Mr. Mike Richardson" or just "Dear Ms. Mayer). However, to avoid unintentionally using the wrong title, or worse, misgendering someone- using first and last names also works fine.
And, if 'Dear' feels a bit stiff, try 'Hello.' However, always avoid using generic salutations like 'To Whom It May Concern" or 'Dear Madam or Sir'.
B. Craft a Captivating Introduction
If you go through excellent cover letter examples, you will understand that first impressions matter, especially when looking for a job.
Hiring managers get hundreds, even thousands, of applications in a day. Chances are, they will not be going through your cover letter, only from end to end. Hence, hooking their attention from the first paragraph is significant.
Most of you tend to make the opening paragraphs of your cover letters incredibly generic. They look like this –
"Hello, my name is Mike, and I would like to work as a Sales Manager at ABC.com. I have previous experience as a sales manager at XYZ.com for 7 years. Thus, I believe I will be the perfect fit for your company."
If you look at this example, you will see the opening paragraph of the cover letter doesn't say anything except that you have worked in the same position before. So do all other applicants who you are competing with.
Rather, you would want to begin your introductory paragraph with 3-4 top accomplishments to hook the reader's interest. Try to mention the accomplishments that are relevant to the position.
You can write something like this –
"Dear John,
My name is Mike, and I would like to help ABC.com hit and exceed its sales objectives as a Sales Manager. Previously, I have worked with Company S, a fin-tech company, for 5+ years. Being a Sales Representative, I generated an average of $50,000+ in sales every month (beating KPIs by around 45%). I truly believe that my prior industry experience, as well as performance in sales, will make me the right candidate for the job."
Notice the difference? If you were a recruiter, would you be impressed by the first or second cover letter intro? See now what we mean!
C. Explain Why You'll Be an Excellent Hire for this Job
A common cover letter error most candidates tend to make is only speaking about how excellent the position will be. Recruiters are already aware of that. However, what they truly desire to know is what you are going to bring to the table.
Hence, once you've got the opening under wraps, try to pull out a couple of key ideas that will make the backbone of the cover letter. They should be well-versed with the fact that you know what their company is searching for and describe how your background aligns with the position. To do this, go through the job description for hints.
Choose 3-5 significant qualifications that you believe you exemplify remarkably. If you are facing a tough time singing your praises, try to understand what your favourite boss or mentor will say about you. Utilise these answers to inform how you will write about yourself. Additionally, you can weave in the feedback you've got to strengthen your case.
Example –Suppose you are applying for the position of an advertiser on Facebook. You scan the job listing and find out the top requirements are –
Experience in managing a Facebook ad budget of $10,000+/ month
Certain skills in advertising on other platforms like Twitter or Instagram
Brilliant copywriting skills.
So, you can write something like –
"In my prior role as a Facebook Marketing Expert at ABC.com, I tackled customer acquisition through ads and managed a monthly Facebook ad budget of $15,000+. As the only digital marketing executive at the company, I managed the creation of ads and management process end-to-end.
Apart from Facebook advertising, I also plunged deep into other online PPC channels, like –
Twitter
Reddit
Google Search
Quora"
D. Back up Your Skills with Numbers and Examples
Go through your list of qualifications from the prior step, and consider the examples from the past that prove you truly have them. And remember to go beyond the resume. Do not simply reiterate what the recruiter can read elsewhere. To put it simply, you would want to paint a complete picture of what achievements and experiences will make you an outstanding hire. Demonstrate what you can say through their doors and deliver once you have found the job.
To do this successfully, try determining the answers to these questions that align with the qualifications you have decided to emphasise –
What kind of approach would you take to handle one of the responsibilities you've specified on the resume?
What details would you incorporate if you were telling someone a short story about the ways you accomplished one of the bullet points on the resume?
What about your passion, personality, or work ethic that will make you excellent at getting the job done efficiently?
When you come up with instances, try to throw in a few numbers. Recruiters love to see stats that show you have had a measurable effect on the company you have worked for.
Example – Suppose you are applying for the account executive role. Then you could write something like this –
"I have always been incredibly objective-oriented – regardless of whether it was hitting a new personal best on the quiz team in college or breaking records as a sales development rep for ABC company. As a Sales Development Representative, I used to break my quarterly sales objectives down every month and every week. I also used to take an hour every Saturday to reflect on how I could have achieved more in the prior week to make sure I was always improving. With these work techniques, I have met my meeting objectives, set 10 out of the last 10 quarters, and averaged 120% to the objective for looking for leads that eventually turned into sales over every quarter last year. When I join as an account executive for your company, I guarantee to bring the same drive and organized approach for meeting longer-term targets to my sales quotas,"
E. Wrap Up with a Strong Call to Action
Finally, the time has arrived to end your cover letter and craft the conclusion. In the final paragraph, you should –
Wrap up any points you couldn't mention in the previous paragraphs
Do you have anything more to say? Any other information that can help the recruiter to make the necessary decision? Remember to mention it here.
Thank the hiring manager for their time
It is never wrong to be courteous as long as you do not appear too needy.
End the cover letter with a call to action.
Include a call to action in the very last sentence of your cover letter. Here, you need to ask the recruiter to take some kind of action.
Example – "To wrap up, thanks for looking into my application. I hope I can assist ABC company in making the most out of its Facebook marketing initiatives. I would love to further discuss how my previous success at STU INC. can aid you in accomplishing your Facebook marketing objectives."
F. A Right Formal Closing is the Key
Once you have finished writing the closing part of your cover letter, all you need to do is craft a formal 'goodbye.' Then, you are good to go!
Have a look at these conclusions you can use in your letter –
Kind Regards,
Sincerely,
Best Regards,
Thank You
G. Proofread the Letter
Knowing how to craft a cover letter for a job isn't all there is to drafting an exceptional letter. It is essential to proofread once before sending your job application letter to the potential employer. Cover letter formatting errors, typos, spelling and contextual mistakes can minimise your chances of getting hired. When you are done proofreading, have someone else go through it.
If they feel that the letter doesn't sell you the perfect person for the job and or it doesn't get them excited, go back for another pass.
4 Unique Tips to Write a Cover Letter That Stands Out
Remember, the cover letter for a resume should always be engaging. You want to captivate the interest of the recruiter so that they turn to your resume to unearth more about you.
We have provided you with almost all the advice for crafting an excellent cover letter, but we've saved some golden ones for the last.
Here are our top tips and techniques to craft a cover letter that will scream 'Hire Me!' –
i. Do Not Apologise
While crafting your cover letter, never point out the experience and skills you lack. If you're qualified for the position but lack adequate experience in the field, do not apologize. Rather, try to emphasize experiences like school projects, volunteering, and community service, which makes you an excellent fit and plays up the transferable skills.
ii. Do Not Be Too Enthusiastic
It is essential to express enthusiasm when you craft the letter. But avoid displaying too much zeal. Try to keep your tone professional, be incredibly genuine, and never present yourself as too desperate.
iii. Avoid Oversharing
While drafting the letter, explaining a career change or job gap is wise. However, sharing each detail about your life or career is not necessary. Avoid these topics every time you draft your cover letter –
Political views
Present or past salary or salary expectations for the target job
Lies and exaggerations
Personal details like marital status, family background, financial status, religious beliefs, or ethnicity
Negative thoughts about former boss or coworkers
Details about work from more than 4 years ago that is irrelevant to your target job.
iv. Incorporate Keywords
Ensure to include vital keywords in your cover letter. You can easily find these keywords in the job listing. Typically, they are the job title, industry, department, and certain responsibilities. Most large organisations use software to screen applicants, and these programs would want you to include keywords in the letters.
Frequently Asked Questions By Students-
1. What is the difference between a cover letter and a resume?
A resume is a brief document summarising you as a candidate for a job. Most resumes incorporate educational history, applicable skills, a summary of qualifications, professional memberships, etc. On the other hand, a cover letter is a detailed document that demonstrates to hiring managers your desire for a certain job.
It is your chance to exhibit more of your personality than you can on the resume. Throughout the letter, you can discuss specific items listed in the job description and the ways your skills and experience match those requirements.
2. What should be included in the opening paragraph of a cover letter?
The opening paragraph of a cover letter after the salutation should briefly describe why you are writing, the position for which you are applying, and how you learned about the job vacancy. It refers to your enclosed resume, which summarises your qualifications and skills.
3. How do I tailor a cover letter for a specific job position or company?
To tailor your cover letter for a specific job position or company, begin by cross-referencing your resume with the job description. You should also –
Begin your cover letter with relevant skills and abilities
Describe why you want the job and why
Speak their language
Do not forget the introductory paragraph
4. Should I include a brief overview of my work history in the cover letter?
Incorporating a brief overview of your work history in the cover letter is not always necessary. The employer already has your resume, so you need not rehash your work history in the cover letter. This is generally a turn-off for employers who are sick of letters that merely summarise their candidates' resumes.
5. How do I showcase my skills and qualifications effectively in a cover letter?
A cover letter is the perfect chance to demonstrate why you are the best candidate for a job. Here are certain unique ways to highlight your skills and qualifications effectively in a cover letter –
Use specific examples
Quantify your impact
Align with the job description
Use confident and positive language
6. Is it necessary to mention my relevant education in the cover letter?
Yes, mentioning your relevant education in your cover letter is wise. This is especially crucial if the job you are applying for demands a specific degree or certification. When writing about education in your cover letter, ensure to emphasise the courses and skills most relevant to the job you are applying for. You can also highlight any awards or honours that you received.
7. What's the best way to conclude a cover letter and express my interest?
One of the most outstanding ways to conclude a cover letter and express your interest is to be clear, concise, and enthusiastic. Here are some ways –
Reiterate your interest in the job
Thank the hiring manager of the employer for their time and consideration
Express your availability for an interview
Use a strong closing statement with a call to action
8. Are there any mistakes or cliches I should avoid in my cover letter?
Refrain from making the cover letter all about yourself. Refrain from using 'I' excessively.
Avoid using phrases like 'solution provider', 'outside the box', 'change driver', or 'cloud-focused'.
Avoid using overused self-description phrases like original thinkers, hard-chargers, etc. Use something more concrete.
Avoid repeating your resume
Do not exceed more than one page
Avoid sending the same cover letter for every job
Avoid being excessively formal or informal
Do not make typos and grammar mistakes
Avoid unnecessary flattery
Do not go off-topic