How to write an Analytical Essay? Strategies, Tips & More
Christine Williams
11 September,2023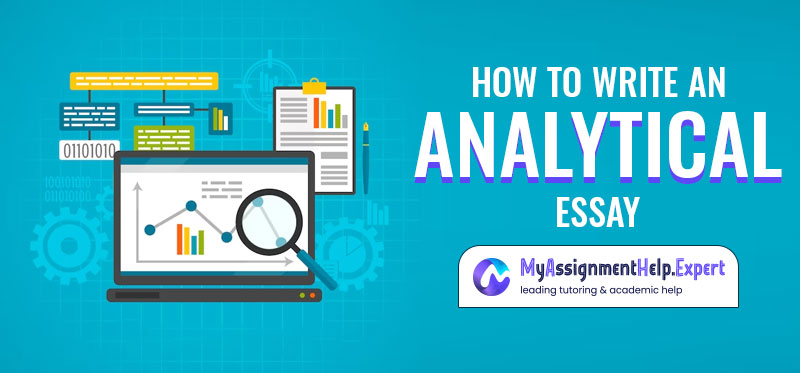 How To Write An Analytical Essay
A lot of thoughts pop up when you see the events around you. You might also interpret them into your own version of understanding. It's time to bring those understandings into a structure.
In fact, these are the skills that academic experts expect you to have. Moreover, by the middle of your semester, you will already be covered by multiple assignments, and analytical essays top the list.
Hence, it's time to decode the secrets of how to write an impressive analytical essay!
What Does an Analytical Essay Aim to Achieve?
Before learning how to write an analytical essay, you must know its purpose or aim.
Essays with an analytical focus have two audiences: readers and writers.
To help you develop as writers and thinkers, high school teachers and college professors will provide you certain analytical paper assignments. This can help improve your writing abilities and deepen your understanding of a subject.
On the other hand, readers can gain a different perspective from analytical pieces. Critical analysis articles are often published by newspapers and magazines to assist readers in making sense of the day's events or an issue.
So, as a writer or author, you can have the chance to inform the public on a wide range of crucial topics, including politics, economics, art, architecture, and culture.
The Steps to Write an Analytical Essay
Apply the steps as arranged below, and you will read to write your very first analytical essay –
Understand the goal of an analytical essay
When writing an analytical essay, you must first make a claim or argument regarding the subject you are studying. Most of the time, you must analyse another literature or a movie. Still, you may also be requested to analyse a problem or an idea.
To do this, you must dissect the subject into its component elements and offer proof for your argument, either from the text/movie or your own research.
Determine your topic
Your teacher will typically give you a topic (or topics) to write on if you are writing this for a class. Study the prompt thoroughly. What is the directive demanding of you?
You may occasionally need to think of your own theme, though.
Suppose you're writing an analytical paper on a fictional piece. In that case, you might centre your argument on the motivations of a particular character or cast of characters. You might also make a case for why a certain sentence or paragraph is essential to the work as a whole.
You can also use a scientific approach to analyse your results while writing about scientific research or findings.
Do a Thorough Brainstorm
To learn more about the issue, brainstorm all possible perspectives.
Look for recurring analogies, ideas, or phrases. Recurring themes are frequently significant. Try to understand why these points are so important.
For instance, if you're doing a rhetorical analysis, you may examine the author's use of logical reasoning to support her point and assess if you think the argument is persuasive.
Furthermore, when analysing a creative work, consider elements like images, movie visuals, etc. If you're reviewing research, you might want to think about the procedures and findings and assess the experiment's design.
Some people can benefit from using a mind map as well. You can start with your main idea and include supporting ideas in bubbles around it.
You can then connect the dots to find patterns and connections between objects.
However, don't rule out any possibilities at the start itself. As you research your subject, keep jotting down any details or components that come to mind.
Define your thesis statement
The argument you will make in your paper may be summed up in one or two sentences, which is the thesis statement. It reveals to the reader the subject of your essay.
This thesis analyses a text and makes a specific assertion, making it an analytical thesis.
Here, the assertion is "arguable," which means it's not a statement of undisputed fact. After all, an analytical essay presents a position and a defence.
Also note that you must avoid writing a "three-prong" thesis, which presents three topics to be discussed later unless you are specifically told to. These thesis statements often severely restrict your analysis and give your argument a formulaic tone.
Keep proof in hand to back your claim
Depending on your assignment, you might need to use both primary and secondary sources, such as other books or journal articles, in addition to your primary sources (the text or texts you're analysing).
The essay should specify the kinds of sources that are needed. A strong case for your claim is strengthened by solid proof. List the evidence, examples, publications, etc., you have by citing its source and how it backs up your assertion.
Design an outline
When you draft an outline, the first thing you need is to know the required length of your essay.
While many teachers prefer essays to be lengthier and examine the topic more thoroughly, some are satisfied with the traditional "5 paragraph essay" format (introduction, three body paragraphs, and conclusion).
Your essay can be as long as it takes to cover your topic in depth. However, students often make the error of selecting a broad topic and giving it only three body paragraphs to be discussed. This leaves the topic half-done or seems to conclude abruptly.
That's why you plan which areas you want to discuss. You might take either two or three inventions, different ideologies, climate control initiatives, etc.
Write an introductory paragraph ending in a thesis statement
If you are wondering how to write an introduction for an analytical essay, well it's nothing big of a task.
However, take a considerable time to compose your introduction because it's where all the expectations arise for a reader.
The finest introduction always begins with a hook, such as a rhetorical question or a strong statement. You can then give background information while establishing the main issues that your research will address.
In the third or fourth line of the first paragraph, add a strong thesis statement that will serve as the essay's compass at the end of the introduction.
Create the paragraphs for your body
The length of your essay will majorly consist of body paragraphs. So, take the time to carefully consider each body paragraph.
Each body paragraph must have – a topic sentence, an analysis of a specific passage from the book, and supporting details from the text that support your analysis and thesis statement.
Here, a topic sentence informs the reader of the subject matter of the body paragraph. Your argument is presented in the analysis of the text. Your argument is supported by the evidence you present.
Use the "CEE: Claim-Evidence-Explanation" formula every time you make a claim, and back it up with evidence and explain how the evidence pertains to your assertion.
Decide when to use a quote or a paraphrase
When you employ a phrase precisely to illustrate your point, quoting is an excellent idea. Whether you are using MLA, APA, or Chicago Referencing style, use the appropriate quote form.
Moreover, you can paraphrase or rewrite certain text to provide context or condense a lot of data into a small amount of space. It can be beneficial if you have certain information where you cannot add too much of your opinions but paste the exact words.
Summarise your analysis in a conclusion
Here is the final segment where you can find the answer to how to write a conclusion in an analytical essay!
For this, finish your analytical essay with a paragraph that restates your thesis statement.
Ensure that you do not add any new evidence here. Instead, provide some finishing touch to your essay by highlighting your key points and offering closing thoughts.
Take a final look at your essay
A paper with multiple mistakes typically receives a lower score than one that has been polished and proofread. Therefore, check your writing for spelling mistakes, run-on sentences, and punctuation faults.
Next, appropriately style your essay. Use a 12-point font (such as Arial or Times New Roman) and 1-inch margins, as that is the norm.
Secondly, read the article aloud to listen for any problematic passages. Additionally, it's an excellent method to spot run-on phrases you would not have otherwise spotted.
Thirdly, check the spelling of every character, title, location, etc., to ensure accuracy.
To get a visual idea, here is an example for you –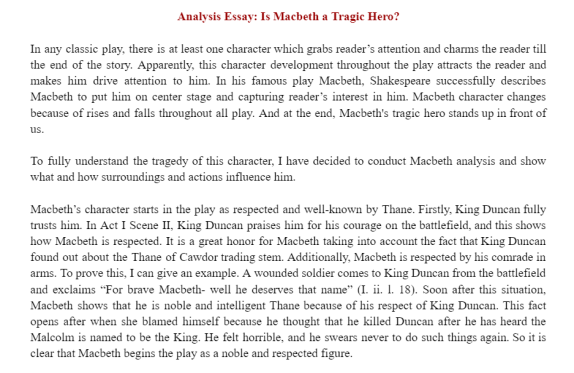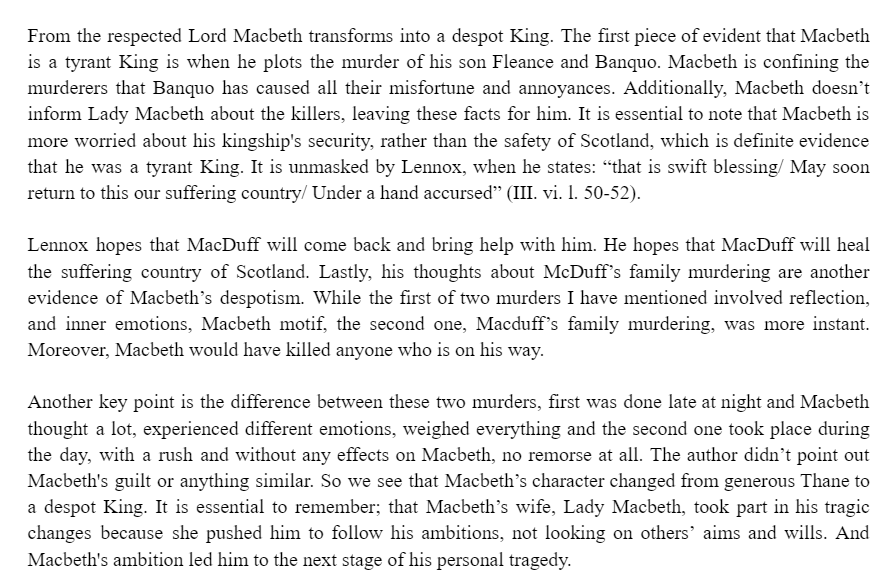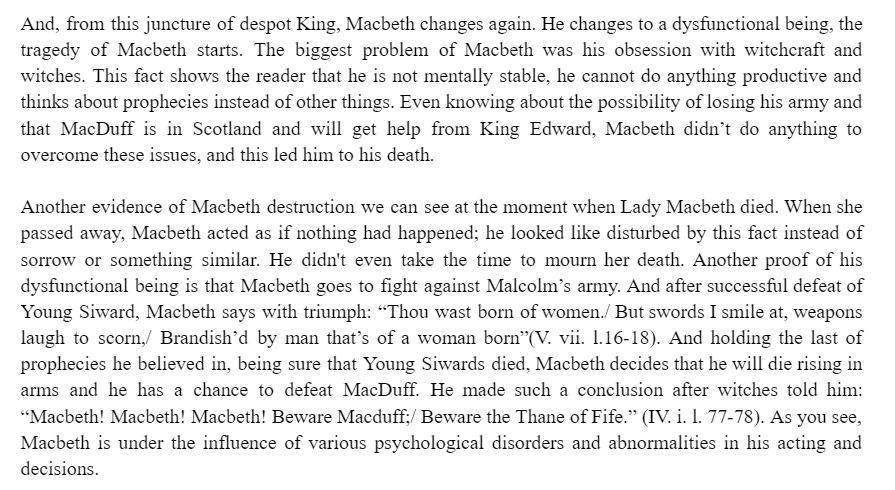 Mistakes to Prevent in an Analytic Essay
Not Giving the Thesis Statement Priority
A thesis statement should be present in the introduction and the essay's body. When you fail to present this point in the introduction, you lose half of your score there!
Some even compose the thesis without specifications. For example, a sentence like, "High school students should be pushed to perform six months of community service" is obscure. Why high school kids should perform community service for six months makes no sense. Instead, a strong thesis statement should succinctly explain all the factors and your queries.
How to Prevent This Common Error:
The correct way of writing the above thesis statement:
Community service should be required of high school students before graduation because it teaches them how to make a difference in the world.
The statement is corrected by responding to the question, "Why?" What is the reason for the judgement?" The response is then completed by adding "because."
So, before stating something in broad terms, always ask yourself how and why.
Repeating the Same Points
The opening sentence of an essay is usually restated in the conclusion.
But you cannot do that in the body paragraphs.
Repeating the same ideas indicates that your investigation was not thorough.
You might talk about the rise of pop culture in the first paragraph. In the second paragraph, you can't begin another sentence with 'there is a rise in pop culture in school'. It increases your word count and also disrupts the essay flow.
How to Prevent This Common Error:
An effective essay should provide the reader with novel ideas while making a fascinating comment on what the essay demonstrates. Consider more implications, pose more queries, or add a thought-provoking quotation. If the first paragraph is a comparative study, add certain quotes or data in the second paragraph.
Presenting Complex format
Many students mistakenly believe that building a complex framework can stand out in their writing.
But, you do not require an essay to be tough. It's mostly technical when professors instruct you to write on a topic that adheres to the style rules.
In fact, it suggests that you must deliver the message succinctly and clearly.
How to Prevent This Common Error:
Here are things you can do to keep your analytical essay straightforward –
Avoid using lengthy sentences and words.
Remember the key argument of the essay.
Use straightforward constructions throughout the essay.
Use short sentences to include the information you want to convey.
Lack of Originality
This is a mistake made mostly when you try to present data without elaborating on how or why you made the point.
One obvious instance is when a quotation is written without any analysis or interpretation of what it means or when a fact is not addressed.
How to Prevent This Common Error:
As you gather the evidence, briefly note what it means. Include your analyses and opinions on the evidence.
As you make revisions, note in your document any places where there are facts or quotes. Check to see if you explained what each piece of evidence implies by reading it over again.
Last Minute Tips for an Impressive Analytical Essay
Keep an Objective Viewpoint
Jumping to conclusions or judgments when analysing a point is one of the most typical errors made. However, a student must ensure that all biases and opinions are set aside during the analysis process.
Suppose you develop a strong personal view as a result of the analysis process. In that case, that opinion needs to be supported by the appropriate rational explanation, not emotional instincts.
Learn the Difference between Analysis and Description
It is critical for a learner to realise the distinction between describing and analysing what they are seeing.
So, keep the essay comparative in nature, not defining it.
Provide Only Verified Proofs
An academic writing article can only be distinguished from a non-academic writing piece by these sources and supporting evidence.
You cannot simply take data from a fan page of an actor and refer to it in your paper. It must be from a verified source. Again, you have to source from publications that are accepted by the university.
Hence, take all these concerns when you are citing evidence.
Final Words,
The opinions that keep boiling in your mind can get a way to be shared in this world. All you need is to be a pro in your analysis essay. If you have a sharp skill in choosing the right structure, apt examples, and accurate facts, you can tie them together to form your case.
Now, writing analysis essays will also need more detailing, engaging introductions, types of data and much more. So, why not bookmark this blog? The guidelines will keep your road clearer for the future.
Frequently Asked Question by Students
What are the key components of an analytical essay, and how do they differ from other types of essays?
The key components of an analytical essay are primary – facts, logic, and empirical evidence. This makes it different from other types of essays since it's more about presenting a point. While other topics focus on informing or describing, analytical essays choose to inform through comparisons rather than mere facts.
How do I choose a suitable topic for my analytical essay, and what criteria should I consider during the selection process?
When you choose a suitable topic for your analytical essay, take into consideration the topics you react to, are puzzled by, are sceptical about, or which inspire you. When selecting the topic, consider these factors –
Topic with wide scope
Scope for development
Topic with scientific relevance
What is the recommended structure for an analytical essay, and which elements should be included in the introduction, body paragraphs, and conclusion?
The recommended structure for an analytical essay is
An introduction
A body with three paragraphs and different arguments
A conclusion with restating of the thesis.
But an analytical essay cannot stand to its meaning unless it has these elements writer's – arguments, counter-arguments, and refutation.
How do I effectively incorporate evidence and examples to support my analysis within the essay, and what strategies can I use to ensure they are relevant and compelling?
To effectively incorporate evidence for supporting your analysis, ensure the fact is narrowed down. Doing so, you can add direct references. To make this work and your analysis more compelling, gather the most recent example that is trending in the news and media.
What are some techniques for developing a strong thesis statement in an analytical essay, and how can I ensure that my essay maintains a clear focus throughout?
The important technique for a strong thesis statement is to get clear evidence. Focus on which point can prove your claim and thus can enhance your opinion. Note that the thesis is more than assertions of fact. Moreover, to have a clear focus on your essay, ensure the arguments are based directly on your thesis statement.