Unlocking the Power of Diversity: CHCDIV001 – Work with Diverse People
Ruth Hall
07 September,2023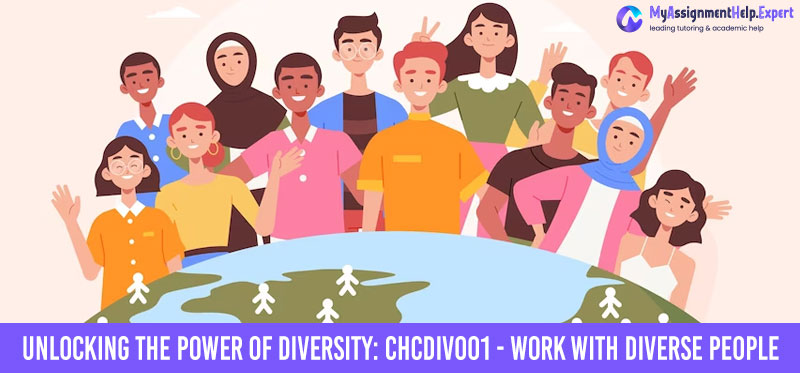 Chcdiv001 stands for working with diverse people. Working with diverse people is quite common. Most people think that they encounter this phenomenon in the workplace. However, that is not true. Think about your childhood times in class, in the playground, and on numerous occasions. We have met with people from diverse backgrounds since the very beginning.
The course of chcdiv001 talks about diverse cultures and how to acknowledge them. Students may feel pressure in composing the chcdiv001 assessment since it is quite a different topic.
Keep on reading to find out major elements related to chcdiv001 assignment answers.
Major Key Elements Students Should Cover in Chcdiv001
So, let us go straight to the point and discuss some elements covered in chcdiv001.
Reflecting on own cultural and social beliefs
The first part of being diverse in cultural beliefs is accepting and identifying one's own beliefs. Those who are culturally competent are confident in their own beliefs. Hence, they are willing to learn about other people's cultures and develop empathy towards them.
Reflecting on one's culture also helps acknowledge stereotypes and identify biases in other cultures. Altogether, it helps in being more open-minded to different perspectives.
How to reflect on cultural beliefs?
Self-Awareness
Open-Mindedness
Research and Learning
Empathy
Critical Thinking
Media and Representation
Dialogues and Conversations
Challenging Assumptions
Reflective Practice
Promoting Inclusivity
Appreciate diversity
A big step in accepting people from diverse backgrounds is appreciating diversity. We should be more thoughtful in accepting people from other races. We are all humans, and we all have our strengths nod weaknesses. Those who work towards it and do not see it as a barrier will overcome differences. This enables them to work in a team.
It is quite common that different races will have differences. But why not indulge in them and learn from them. There is so much to learn from a particular race. Food, culture, tractions and lifestyle are namely few.
There can be people of different religions, incorporating certain practices from other cultures just because it offers more peace. Treat people equally and do not demean anyone.
Be opinionated, but do not let someone down. Communicate as per age and position and, if not anything be kind and respectful.
How to accept diversity?
Self-Awareness
Educate Yourself
Perspective-Taking
Respect Differences
Challenge Stereotypes
Open-Mindedness
Cultural Competence
Foster Inclusion
Celebrate Differences
Speak Up Against Discrimination
Cultivate Relationships
Continuous Learning
Lead by Example
Promote Equality
Communicate with people from diverse backgrounds
Communicating with people from diverse backgrounds is crucial in our interconnected world. Such interactions broaden perspectives. It also leads to innovative thinking and creative problem-solving by incorporating varied viewpoints.
Effective cross-cultural communication enhances collaboration in global contexts. It fosters harmonious relationships and reducing conflicts. It cultivates respect for differences, enriching personal growth and promoting inclusivity.
How to achieve good communication
Listen Actively
Show Respect
Cultural Sensitivity
Open-Mindedness
Clear Communication
Nonverbal Awareness
Ask Questions
Be Patient
Conflict Resolution
Build Relationships
Invest time building personal relationships, as trust is essential in cross-cultural interactions. Concentrating on doing so, you will learn how to collaborate by being indifferent to cultural differences.
Be willing to bring the whole group together a work as a unit. Promote understanding of differences rather than creating a bridge.
Here is how you can build relationships:
Learn from Mistakes
Education and awareness
Open dialogue
Cultural celebrations
Collaborative projects
Cross-cultural teams
Empathy building
Language access
Inclusive policies
Networking opportunities:
Respect for traditions:
Improving Academic Performance: How Websites Aid Students in Writing Chcdiv001 Assessment Answers
Now that you are fully aware of its concept, you can easily write assessments on it. However, if you cannot, then do not worry; we are here to help you get over your issues with writing:
Here is how we help you:
Myassignmenthelp.expert has a team filled with professional experts. We have ex-professors, subject scholars, and degree holders in our team. They craft best chcdiv001 assessment answers that stands out from others using their expertise and knowledge.
Since we have been doing this for ages, we have some tricks up our sleeves. We have credible databases that others do not have access to. We put these data into our Chcdiv001 assignments making them perfect.
Forget about your plagiarism worries, as we are here. We only compose papers that are 100% authentic. No student has complained about plagiarism issues ever and we wish to keep it that way.
Want your papers in 24 hours? Consider it done. We have been helping students for ages, and never have we caused delays in delivery.
Our writers are available 24/7. Feel free to contact us anytime and get your doubts cleared.
Get ready to receive freebies from us. We offer free sample papers and free revisions, which helps students get the most benefits out of us.
Moreover, can you access all of these perks at very low prices? We offer discounts, coupons and more to keep prices under check.
We also offer free tools, tutoring services and more to help students in any way possible. We are your one-stop solution to get over all of your worries. Connect with us today and say bye to your worries.
Frequently Asked Questions
What is the main focus of Chcdiv001?
The main focus of Chcdiv001 is to work with diverse people. It also focuses on being more open-minded and empathetic. Foster a sense of respect and equality rather than leading by prejudices. It aims to create better workspaces and welcome every ethnicity and race.
How to be more self-reflective?
One needs to practice self-reflection. See your actions and look back at the past. When you look back at your actions, only then can you work on them in the future.