Best English Grammar Books
admin
07 August,2023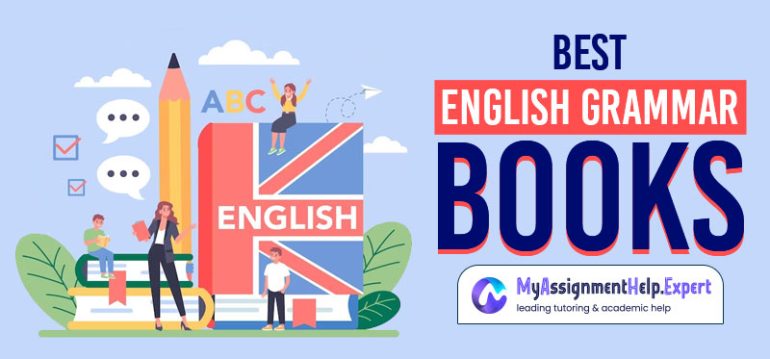 Are you someone who's passionate about mastering the English language? Whether you're a student aiming to improve your academic performance, a professional seeking to enhance your communication skills, or simply an individual eager to express yourself more effectively, a solid understanding of English grammar is essential. The good news is that there's a plethora of exceptional English grammar books available to help you on your journey to linguistic excellence. In this comprehensive guide, we'll present the top 25 English grammar books that have garnered praise for their clarity, comprehensiveness, and effectiveness in aiding language learners.
1. "The Elements of Style" by William Strunk Jr. and E.B. White
Considered a classic, this concise guide offers timeless advice on writing and grammar that remains relevant to this day.
2. "English Grammar in Use" by Raymond Murphy
A widely popular grammar reference for learners of all levels, offering clear explanations and practical exercises.
3. "Woe is I" by Patricia T. O'Conner
A humorous and engaging guide to English grammar that simplifies complex rules and principles.
4. "Eats, Shoots & Leaves" by Lynne Truss
A witty exploration of punctuation's impact on language, perfect for those who want to enhance their writing skills.
5. "Grammar Girl's Quick and Dirty Tips for Better Writing" by Mignon Fogarty
Based on the popular Grammar Girl podcast, this book provides practical tips and insights to improve your writing and grammar.
6. "The Blue Book of Grammar and Punctuation" by Jane Straus
A comprehensive resource for grammar and punctuation rules, ideal for both students and professionals.
7. "English Grammar For Dummies" by Geraldine Woods
Part of the "For Dummies" series, this book breaks down complex grammar concepts in an approachable manner.
8. "Sin and Syntax" by Constance Hale
Blending grammar advice with creativity, this book emphasizes the importance of style and expression.
9. "The Chicago Manual of Style" by The University of Chicago Press Editorial Staff
A comprehensive guide used by writers, editors, and publishers for its detailed grammar and style recommendations.
10. "Sister Bernadette's Barking Dog" by Kitty Burns Florey
An entertaining and informative guide to sentence diagramming that harks back to traditional grammar teaching.
11. "The Only Grammar Book You'll Ever Need" by Susan Thurman
A handy reference guide covering a wide range of grammar topics with clear explanations and examples.
12. "Dreyer's English" by Benjamin Dreyer
A copyeditor's perspective on language, filled with practical tips and insights to elevate your writing.
13. "Merriam-Webster's Dictionary of English Usage" by Merriam-Webster
An authoritative guide that explains the intricacies of English grammar and usage.
14. "The Sense of Style" by Steven Pinker
Combining linguistics with writing advice, this book advocates for clear communication and effective sentence structure.
15. "The McGraw-Hill Handbook of English Grammar and Usage" by Mark Lester
A comprehensive handbook with grammar explanations and exercises suitable for students and professionals.
16. "The Grammar Bible" by Michael Strumpf and Auriel Douglas
A user-friendly guide that covers grammar rules, style tips, and common language pitfalls.
17. "English Grammar: Understanding the Basics" by Evelyn P. Altenberg and Robert M. Vago
Ideal for beginners, this book explains fundamental grammar concepts in a clear and concise manner.
18. "The Oxford A-Z of Grammar and Punctuation" by John Seely
A quick reference guide that covers grammar and punctuation rules with examples.
19. "Grammar to Get Things Done" by Edwin L. Battistella
Focusing on practical grammar skills for professional success, this book offers insights for effective communication.
20. "The Glamour of Grammar" by Roy Peter Clark
A guide that emphasizes the beauty of grammar and the role it plays in creating compelling writing.
21. "English Grammar Essentials For Dummies" by Wendy M. Anderson and Geraldine Woods
A condensed guide for those looking to quickly grasp essential grammar concepts.
22. "English Grammar Workbook For Dummies" by Geraldine Woods
Filled with exercises and practice questions, this workbook is perfect for reinforcing grammar skills.
23. "The Complete Idiot's Guide to Grammar and Style" by Laurie Rozakis
A user-friendly guide that breaks down grammar and style concepts for easy understanding.
24. "The Elements of Eloquence" by Mark Forsyth
Exploring the art of rhetoric, this book reveals how figures of speech can elevate your writing and communication.
25. "The Copyeditor's Handbook" by Amy Einsohn
A comprehensive guide to editing and proofreading, perfect for writers seeking to improve their grammar and style.
From classic references to modern guides, the world of English grammar books offers a variety of options for learners at every level. Whether you're looking to enhance your writing, improve your communication skills, or simply gain a deeper understanding of the English language, these top 25 grammar books are valuable resources that can guide you on your journey towards mastering the intricacies of grammar and style. So, pick up one (or more) of these books and embark on a path to becoming a more confident and effective communicator.